5 days / 4 nights. Groups of 10 to 16 people.
Tour archaeological Chyhyryn participation in archaeological excavations of the famous sights of Ukraine and Eastern Europe - the settlement of the Neolithic and Bronze Age Molyuhiv hummock
(May-August 2013) em>
1 day.

am - check the tour participants to their home - a tent camp in the floodplain Tyasmin north of the village Novoselytsia Chygyryn District Cherkasy region. Accommodation at the camp. Excursion to the settlement of the Neolithic and Bronze Age Molyuhiv hummock (V-III millennium BC) and settlements yamnyh tribes acres (III millennium BC). Afternoon - Training "Technique and Practice of archaeological field».

Day 2.

am - participated in the excavation of Neolithic settlement and neolithic Molyuhiv hummock (V-III millennium BC), pm - bus tour to Cold Ravine with visits to famous archaeological sites in Ukraine - Motronynskoho settlement and burial mounds of the Scythian period (VII-V century BC.).

Day 3.

am - participated in the excavation of Neolithic settlement and neolithic Molyuhiv hummock (V-III millennium BC), pm - bus tour to Subotiv village with a visit famous archaeological sites in Ukraine: Subotivskoho multilayer settlement (bilohrudivska, chornoliska, Zarubintsy culture) and zamchyscha Bohdan Khmelnytsky with the remnants of the building of the XVII century.

Day 4.

am - participated in the excavation of Neolithic settlement and neolithic Molyuhiv hummock (V-III millennium BC), pm - holidays in virgin a Ukrainian steppe.

Day 5.

bus tour of the city with visits Chyhyryn Kurgan group III millennium BC, Chiguirin fortress XVII., Bohdan Khmelnytsky Museum and the Museum of Archaeology. Check home.

Conditions:

living in a tent camp in the floodplain Tyasmin 1 km north of the village Novoselytsia;
4-meals food that is prepared on an open fire;
swimming and water treatments in the river Tyasmin which is 100 meters from the residence;
other facilities under field conditions.

Cost:

- hire tourist and commercial equipment - 100 UAH. (10 €) per day
- meals (breakfast + lunch + of dinner) - 110 UAH. (11 €) per day
- tourist services during excavation and sightseeing transportation services + + translator - 210 UAH. (21 €) per day
Journey includes
- visit sanctuaries,
- museums,
- historical monuments,
- culture and nature Cherkasy region.
Archaeological tour attractions Chyhyryn participation in archaeological excavations of the famous sights of Ukraine and Eastern Europe - proposed and developed by the Department of Education and Science of Oblast State Administration and Cherkassy branch of the Small Academy of Sciences of Ukraine.
Form a group to participate in archaeological tour in Cherkaskiy area.
Archaeology of the Middle Dnieper
Hunters mammoths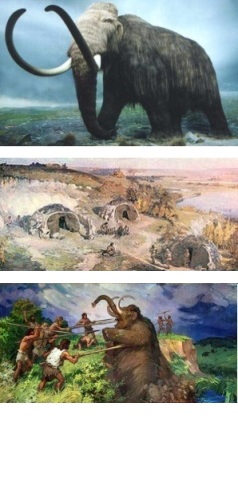 Community hunting mammoths among the most mysterious as difficult to reconstruction. However, more than centennial excavation sites with the bones of mammoths in Eastern and Central Europe , as well as the efforts of various scholars in understanding its results bring us closer to understanding the lifestyle glacial hunters of mammoths. In c. Mezhyrich Kanev district of Cherkasy region is unique, world famous Late parking hunters of mammoths, which according to the method of radiocarbon dates from 15-20 thousand years ago. Uniqueness Mezhiritsky structures is a kind of artistic exterior sheath of certain parts of the bones of mammoths, not marked at all known locations to date Upper Paleolithic. Examining thick blockage of one of Mezhiritsky dwellings, archaeologists stepped on his floor, once heavily trampled down our distant ancestors.
Several people leaning over the central fire: it begins clearing dug with its two sides pidporok with mammoth bones, which once hovered spit strung with a baking game. Here and there on the floor lay stone knives, scrapers, edge to spears, various bone products.
Open Late residents v. Mezhyrich - - a remarkable achievement of Ukrainian and world science. During their excavations was found Numerous archaeological material, which allows to characterize not only the tradition of house construction, and other aspects of primitive hunters of mammoths. He presented tools, household items, religious articles, jewelry, art, stone, flint, bone, horn and other materials. On the outskirts of the village Mezhyrich are other archaeological sites: starts third millennium BC, the settlement of the Bronze Age-Early Iron Age, settlement XI-XIII. century., Check the twelfth and thirteenth centuries. century.
And it Mezhiritsky parking, thanks to the good preservation and Qualifications kovannym excavation, gives us a unique opportunity to study the original architecture
Tripoli Culture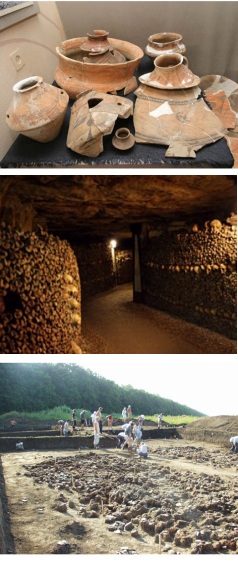 Tripoli culture (culture Cucuteni-Tripoli) - one of the unique archaeological cultures Eneolithic (copper-stone age) in South-Eastern Europe. A large number of monuments of culture located on the territory of Cherkasy oblast (Ukraine). Here are the most settlements giants of this culture. It was at Cherkassy region was established State Historical and Cultural Reserve "Tripoli culture." The reserve area includes 11 Trypilla settlements. Area Reserve now 2045 hectares, it is located in three districts of Cherkasy region. Among the archaeological sites that are part HIKZ "Tripoli culture" are known as settlement: settlement at Talianky (450 ha), Maydanetske (200 ha), Funny Angle (150 ha), Hlybochok, Sandy, Onopriyivka - Talne District Kosenivka, Dobrovody, Apolyanka - Uman district Vilhovets (180 ha), Chychyrkozivka - Zvenigorod district. On the reserve zaplaniroavano create objects museum and tourist destination, including Museum of Tripoli culture (Talne) - in a hunting castle of Count Shuvalov, who is under reconstruction. In c. Lehedzyne Talne district created museum settlements giant Tripoli culture. In the area of excavations near the village. Planned to build a settlement at Talianky arheodroma - indoor pavilion over a group tripillia excavated dwellings. It also will play buildings reconstructed on the basis of excavations, which can accommodate tour groups.
The village Lehedzyne Talne district, Cherkasy region, researchers have unearthed an ancient necropolis of late Gothic III - start the IV. BC Dumping refers to Cherniahivs'ka culture. The graves, archaeologists have found evidence of mixing Gothic and Sarmatian nomadic cultures, unique parking hunting mammoths, located in the Cherkasy region may dilute rains. Opened in late 1960 - it caused quite a stir in archeology and has become a mecca for historians. Age Parking - 15 000 years. Such systems since the late Paleolithic world's only 5. Here four unique homes, and dug around six domestic wells. Their hunters used to store meat and collecting othodov.tyskali metal jewelry, dishes, clothing remnants.
The territory of present Cherkassy region was settled in the earliest period of the Stone Age - Paleolithic, about 40 thousand years ago. We found stone and bone tools (axes, scrapers, cutters), during excavations in Chernobaevsky area and starts hunting mammoth in Kanev area dates back 20-15 thousand years BC.
Chornoliska culture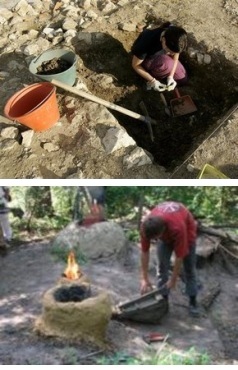 Jabotinsky settlement rannoskifskoho time - located 3km northeast of the village Zhabotyn Kamyanskoho district on the right bank r.Zhabyanka on improving entitled Tarasova Gora and surrounded on three bokivyaramy. Refers to the Iron Age and subsidized VII - beginning of VI. BC In some places there are things later time - V century. BC The settlement covers an area of 72ha. The main occupation of the inhabitants of the settlement was farming implements which are found among grain graters roztyralni stone sickles. Developed been and cattle in the herd is dominated by cattle.
Motronynske mound - Scythian is cold Yar ravine between villages Zhabotyn Smelyanskogo area and Melnyky Chygyryn District Cherkasy region. Researchers believe that Motronynske settlement arose at the end of VII. BC Settlement area is 200 hectares and consists of internal and external reinforcement with cross sections of gullies and ravines areas.
Chornoliska culture - archaeological culture in transition from the Bronze to the Early Iron Age (IX-VII centuries. BC). Common was in the forest-steppe zone bank Ukraine between the Dnieper and Dniester. . Important mound near Subotiv (Cherkasy region) was bronzolyteyniy cultural center. A classic example is Chornoliske settlement building on a hill Tyasmin. It consists of clay shaft 12 x 1 m, at the foot of which were found charred remains of wooden fortifications. These were built with box blockhouses, a connection palisade.
Cossack era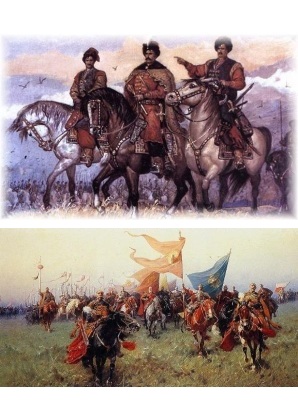 Cossack period in the history of our country has 300 years. Its beginnings date back to the distant XV., When in Lithuanian, and then Polish enslavement Ukrainian had to defend their identity, borders and the possibility of further development as a nation. On the territory of Europe appears, though briefly, independent Ukraine with all the trappings of political and economic power. This period of life and struggle of the Ukrainian people named "Khmelnychyna" in its scope and meaning was one of the most important for the fate of Ukraine's fight for independence. The tradition of the Old Rus princely state, the idea of the Grand Duchy of Rus and revolutionary origins of the new Ukrainian state, the military nature of its organization and administration, real power Hetman and personal "authority Bohdan Khmelnytsky - all this is reflected in the formation of the government. Ukrainian state Bohdan Khmelnytsky realized as successor of Kievan Rus. precisely the independence of the Ukrainian state and the agreement with Russia in 1654 p., which later became sudbonosnoyu for Ukraine and had considerable importance for Russia, oznachyvshys on relations between the two countries.
Chigirin – the first capital of Ukraine, Hetman Bohdan Khmelnytsky, p. Subotiv - his family estate. Subotiv holds a special place in the history of Ukraine. It is this village was the ancestral estate of Bohdan Khmelnytsky. So where was the famous Ukrainian hetman estate, for more than half a century has attracted attention of researchers. Monument located in the center of the village opposite the church of St. Elijah the Prophet (east of the ravine), built in 1653, Khmelnytsky Zamchysche is high promontory right r.Tyasmyn indigenous banks in the confluence of his stream. Area of about 2 hectares.
Rich in natural resources, significant historical and cultural potential, the wealth of architectural and archaeological create opportunities for the full enjoyment of cognitive and recreational needs of not only domestic but also foreign tourists. One of the new and rapidly gaining tourism destinations in the world - arheodromy. What arrived tourist can see how they lived ancient inhabitants of these places. But this is not just a museum exhibition and even open-air museum. At the most "advanced" arheodromah can see and even take part in the daily affairs of life ancient - hammer in the forge wave, to try to build a pot with "authentic" pottery wheel, and even make a stone ax with a piece of flint.